Call Back Request
Are You Looking For A Care Home or Nursing Home? Fill out the call back form below and we will be in touch
For many people, moving into a care home can be a challenge. They may have lived in their previous home for years or even decades, so having to get used to a whole new set of names, faces, and surroundings can feel overwhelming. This can be amplified if they're living with dementia or another neurological condition.
At LuxuryCare, our priority is to help the people we care for to feel comfortable in their surroundings. That's why we strive to create a true home away from home.
Our facilities are designed with comfort and convenience at their core. Fitted with modern furnishings, state-of-the-art appliances, and beautiful decor, they provide a high standard of living for all who choose to stay with us.
But that's not all. Our homes are situated in some of the most coveted locations in Poole and Bournemouth, giving our residents the chance to enjoy the best of what these areas have to offer.
All of our homes are located close to shopping hubs, cafés, restaurants, and beaches. Many of our residents love taking leisurely walks along the coastline with our care staff, enjoying the fresh sea air and taking in the breathtaking views around them. We also organise regular days out and outdoor activities.
Read on to discover what makes our facilities so special, including our bedrooms, communal areas, gardens, and more!
Bedrooms are personal spaces where everyone should feel safe, comfortable, and free to be themselves. To help our residents feel this way, we provide spacious ensuite bedrooms that are fitted with all the amenities they need for quality day-to-day life. For couples who want to stay together, we also have several double bedrooms available.
Each bedroom has a memory box at the entrance, decorated with personal photographs and images. This not only helps the people in our care identify their own room, but also reminds them of cherished memories whenever they walk by.
We want our residents to feel like their room is truly their own. To help make that happen, we welcome them to bring along any personal items that bring them comfort, like photos, cosy bedding, or a favourite stuffed animal. We even find out what colour they'd like their walls to be painted before they move in! Our friendly staff are always on hand to lend a hand with putting up any decorations or personal touches.
Mobility can be a challenge for some of our residents. If your loved one needs additional features in their room to help them move around independently, we'll make sure they have everything they need. This includes hoists, handles, and more.
What makes our care homes truly special is the closeness of our communities. Our communal areas are thoughtfully designed to be warm and inviting, complete with comfortable armchairs, televisions, bookcases, and other amenities. Whether they want to engage in lively conversation or simply bask in each other's company, our residents can always find a cosy spot to relax and spend time together.
Most of our wings feature kitchenettes, where residents and visitors can make their own tea and snacks at any time of day. This creates even more opportunities for socialising and connecting with one another.
To further enhance the family-like atmosphere, we proudly display photos of our residents and their recent activities throughout the communal areas. Whether they've enjoyed a fun trip to a museum or taken a leisurely stroll along the beach, we want everyone to remember recent outings with a smile.
All of our homes boast beautifully maintained gardens, creating a peaceful atmosphere where residents can escape, unwind, and admire the natural beauty around them. We've taken special care to make sure our gardens are fully wheelchair accessible, so that everyone can navigate them easily. We've also included sensory features in our gardens, such as fragrant flowers and textured surfaces, making them an enjoyable space for those who are blind or visually impaired to explore and relax.
Our gardens are surrounded by keypad-protected walls and wooden gates, so our residents can feel safe as they take leisurely strolls or simply sit and enjoy the peaceful surroundings.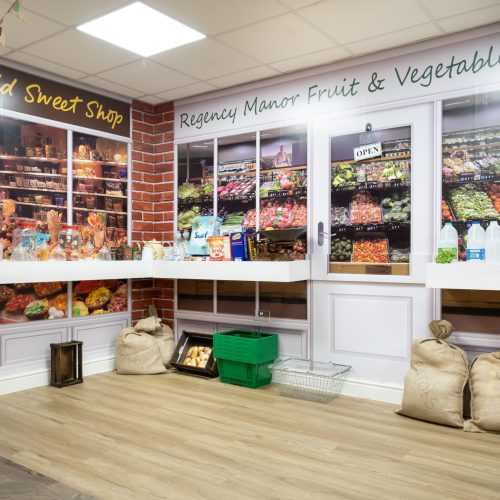 Dementia-Friendly Layouts
Dementia is a progressive condition that affects memory, cognition, and behaviour. It's common for people living with dementia to feel disorientated, so it's important they live in a familiar and comfortable environment that minimises confusion wherever possible.
All of LuxuryCare's care homes have been designed to make life easier for people with dementia. We've paid special attention to lighting, signage, and other visual cues, and have designed special bedroom door plaques with each occupant's name and a picture. Our corridors are decorated with colourful images depicting different themes, such as a street, garden, or beach, that help stimulate residents' visual senses and make it easier for them to recognise where they are. Our handrails are all topped with brightly coloured bands which makes them more visible and increases the safety and independence of residents while walking. Meanwhile, our bedroom and toilet doors are painted in bright colours to help those with visual impairments or difficulties identifying contrast.
By including these design features, we help to reduce confusion and promote a sense of familiarity, comfort, and safety for the people under our care. We understand how important it is to create an environment that supports our residents' mental and physical well-being, and we're proud to provide homes that achieve just that.
As well as tailored care plans, we provide an array of services to ensure that every single person gets access to what they need.
We have a dedicated housekeeping team who work round the clock to keep the clothes of the people we care for fresh and clean. By using a special laundry detergent called OTEX, we're able to rid clothes of all micro-organisms, ensuring the highest level of hygiene. Once every item has been washed and dried, our support team will iron the clothing and put them neatly away.
Our catering team have created a delicious menu that consists of three healthy and nutritious meals a day. The people under our care will be offered breakfast spreads, as well as hot and cold lunches.
Each evening, we make dinner a special occasion by laying our tables like a 5-star restaurant. We provide a three-course meal at dinner, but if someone doesn't like the set menu, our chef will happily put together a specific dish for them.
For a bit of pampering, residents can book an appointment with our dementia-trained mobile hairdresser, who regularly visits to cut and style hair for both men and women.
Everyone in our care will be able to get medical appointments without having to leave the care home.
We arrange doctor's visits, dentist appointments and eyesight checks whenever required. Psychiatrists, occupational therapists, district nurses, and other professionals regularly visit to assist in monitoring health issues, including dementia progression.
Your loved one doesn't have to give up their routine when it comes to practising their faith. At our care homes, we have our very own multi-denominational, dementia-trained chaplain. They regularly visit to conduct religious services for all faiths.
Many people with dementia struggle with feelings of depression, anxiety, and loneliness. To combat this, we offer therapy sessions with licensed psychiatrists and encourage the people we care for to join in with activities and day trips.
Choosing a care home is a big decision, and we want to make sure you feel fully informed throughout the process. That's why we invite you and your loved one to visit our homes as often as you like. Our friendly staff will be happy to show you around, answer any questions you may have, and introduce you to our beautiful gardens, bedrooms, and communal areas.
If you'd like to discuss your specific needs and preferences in more detail, we recommend arranging an appointment with our manager or deputy manager in advance.
We hope that visiting us will give you a good sense of our warm and welcoming community, and the exceptional level of care we provide. We look forward to meeting you soon, and to helping you make the best possible decision.