Call Back Request
Are You Looking For A Care Home or Nursing Home? Fill out the call back form below and we will be in touch
Through a combination of our modern facilities and personalised approach to care, we our residents maintain their independence and enjoy life to the fullest. We take great pride in our ability to create a friendly and welcoming environment for everyone living with us – it's why nearly all of our homes are either rated "Good" or "Outstanding" by the CQC!
We know that arranging for a loved one to move into a care home isn't a decision that's taken lightly. There are a lot of factors to consider, and things to discuss, beforehand. Our goal is to put your mind at ease by making it easy to explore everything we offer with our residential care.
We hope that by learning more about our services and facilities, you'll be able to make an informed decision that brings you and your loved one peace of mind.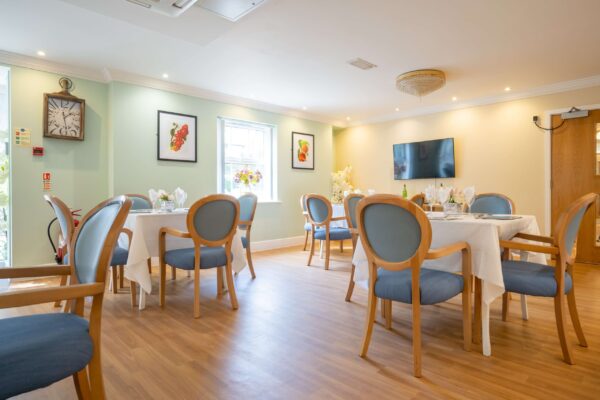 What is a Residential Care Home?
A residential care home, also known as a group home or assisted living facility, is a type of long-term care facility for elderly or disabled individuals who require assistance with daily living activities.
Residential care homes offer a range of services, including meals, medication management, housekeeping, and transportation. If needed, they can also provide personal care assistance, such as bathing, dressing, and grooming.
These facilities provide a home-like environment, with private rooms, communal dining areas, and common spaces for socialisation and activities. The level of care provided can vary depending on the needs of the residents, with some facilities specialising in dementia care, nursing care or rehabilitation services.
Why Choose LuxuryCare for Residential Care?
At LuxuryCare, we take great pride in fostering a close-knit community where people of all backgrounds feel welcomed and valued.
Our team of dedicated nurses are passionate about providing first-class care to individuals with a wide range of care needs. Whether they require minimal assistance or more specialised care, we're here to support them with dignity and respect.
Comfort and accessibility are at the heart of our homes' designs. Our thoughtfully planned layouts are disability-friendly and simple to navigate, making it easy for everyone to get around. Our rooms and communal areas are beautifully furnished and equipped with modern amenities, including plush beds, high-end furniture, and state-of-the-art appliances.
We understand that moving into a new home can be overwhelming, so we go above and beyond to make the people we care for feel at home. We encourage new residents to bring personal items from their previous home, such as photographs and furniture, to make their new space feel more familiar. They even have the opportunity to choose a wall colour for their room before moving in! We believe that these small but thoughtful touches can make a big difference in helping individuals feel more comfortable living with us.
Our homes are surrounded by picturesque gardens, which offer a peaceful and relaxing retreat for the people we care for. Many of our rooms back directly onto these gardens, allowing for easy access to nature and fresh air.
We believe that excellence in care starts with our team. That's why we're dedicated to recruiting only the best individuals in the field. Our care team is made up of skilled, compassionate professionals who are committed to providing the highest quality of care to the people living with us.
Everyone is different, which is why we create individualised care plans for every person living in our homes. By doing so, we're able to tailor our approach to best suit their specific needs and preferences.
Our care team is available 24 hours a day, 7 days a week, to support our residents' well-being. Our nurses and care assistants have extensive experience in managing a wide variety of physical and psychological conditions, and we offer in-house training to all our staff to maintain our high standards of care.
From hairdressing to housekeeping, we make sure each person in our care has access to the services they need to thrive. Some of the many services we provide include:
Nutritious and delicious meals, locally sourced and prepared by our in-house chefs
Regular housekeeping and laundry services
Access to a multi-denominational chaplain
Professional hair salon
Coffee shop and tuck shop
Regular counselling sessions
Chiropodist
Medical services
Keeping the mind and body active is key to good health, which is why we offer a diverse range of activities for the people in our care to take part in.
From exploring the beautiful New Forest to enjoying a night at the theatre, there are plenty of opportunities for our residents to make friends and memories.
When it comes to evening activities, we have something for everyone! Whether it's a friendly game of scrabble, a lively singalong, or even a bake off, our residents always have something to look forward to. We also love organising themed tea parties, cheese and wine afternoons, animal therapy sessions, and more!
For those who enjoy quieter activities, we regularly hold hymn and poetry sessions, providing a peaceful space for our residents to reflect and connect.
At LuxuryCare, we understand the pressure that comes with choosing a residential care home for your loved one.
We offer in-depth consultations to guide you through the process and provide you with all the information you need to make an informed decision. We invite you to visit our homes and see our rooms and facilities first hand, so you can feel confident in your choice.
At every step of the way, we're here to answer any questions you may have about our care services.
Book a consultation online or call us at 01202 761449!