Are You Looking For A Care Home or Nursing Home? Give us a call on 01202 761449 or fill out the call back form below and we will be in touch
Luxury Nursing Home in Branksome Park, Poole
Branksome Park Neurological Centre is a dedicated nursing home situated between Bournemouth and Poole. Our nurse-led team provide specialist care to people with a variety of complex nursing needs, including:
Spinal injury
Brain injury or tumour
Multiple sclerosis
Muscular dystrophy
Motor neurone disease
Cerebral palsy
Dementia
We also support anyone over the age of 18 living with a life-limiting condition who requires full-time residential care, as well as people who require bariatric support.
Our mission is to provide excellent care in a warm, social, and relaxing environment. We have close links with physiotherapists, speech therapists, and Macmillan nurses, allowing us to provide a complete care package.
Specialised Nursing Care in Dorset
Neurological disorders are medically defined as disorders that affect the brain as well as the nerves found throughout the human body and the spinal cord.
Structural, biochemical, or electrical abnormalities in the brain, spinal cord, or other nerves can result in a range of symptoms. Examples include paralysis, muscle weakness, poor coordination, loss of sensation, seizures, confusion, pain, and altered levels of consciousness.
At Branksome Park, we understand that people with neurological conditions often have highly complex care needs. No two cases are the same, which is why each person under our care receives their own unique care plan.
Our nursing care plans take into account all aspects of a person's life, from their capabilities and daily routine to the medicines they take. We give each of our care staff a detailed document covering every aspect, so they can provide the very best care in line with our exceptional nursing care standards.
Our team of high-calibre nurses are specifically trained to support individuals with neurological conditions. We're able to offer a variety of healthcare options, including residential nursing care and a rehabilitation pathway that encompasses slow stream and intensive therapy programs. Our team collaborates closely with community NHS therapy teams to guarantee seamless continuity of care.
Our experience in caring for adults from all walks of life has taught us the importance of adapting our services to each person's unique history and personality. We understand the importance of being responsive, sensitive, and warm given the nature of our service, and we feel honoured to witness the incredible journeys of each person under our care.
We make sure every need is met by having doctors and other healthcare professionals visit regularly. We assess the medical, psychological, and spiritual well-being of the people under our care on a regular basis, adjusting their care plans accordingly.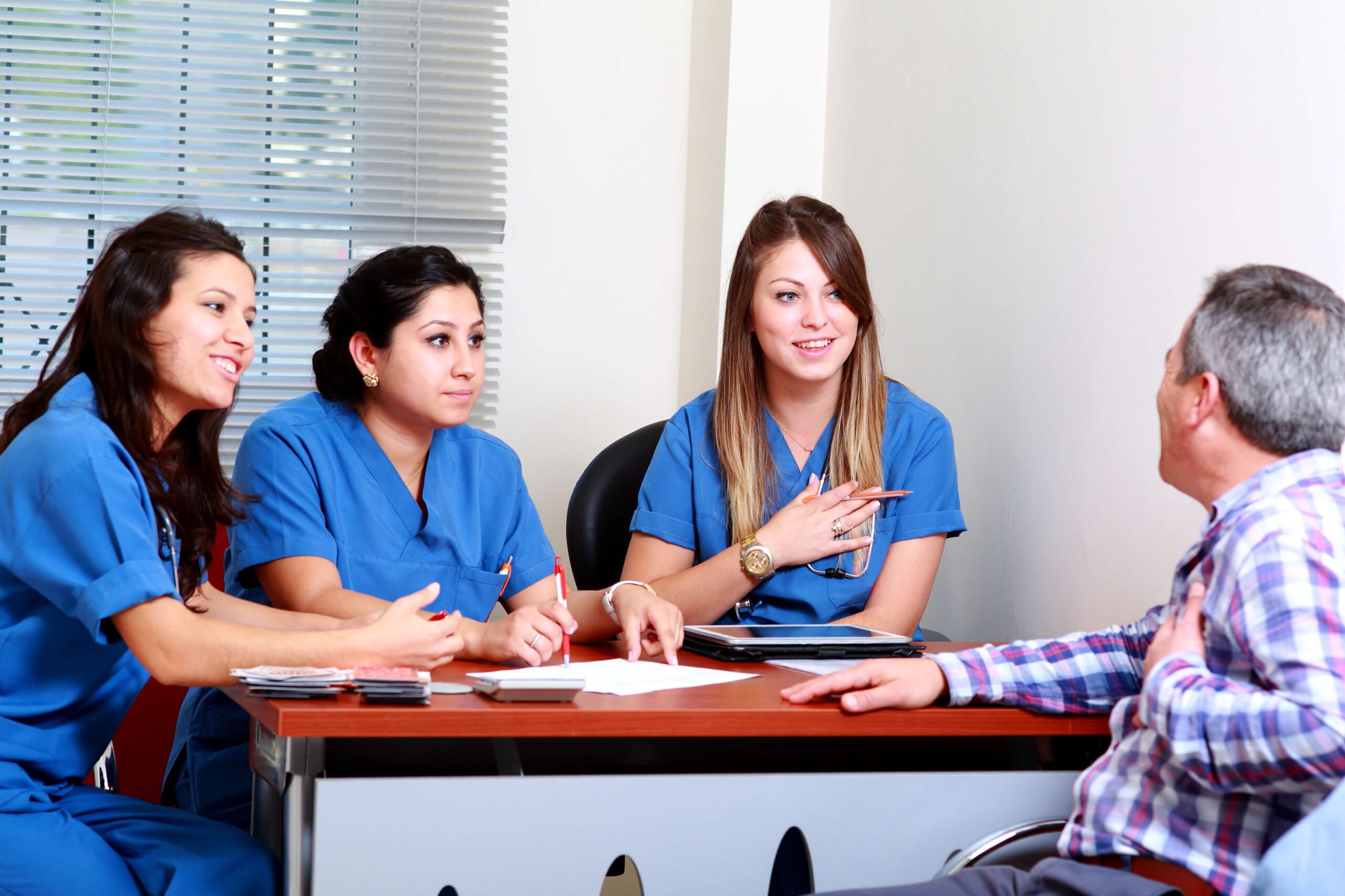 Dementia can cause people to forget significant aspects of their past, have difficulty communicating, and struggle with daily activities. A diagnosis can be a scary and confusing time, both for them and their families.
Our care team is dedicated to providing high-quality care to our residents with dementia. They undergo an extensive in-house training program to acquire the knowledge and skills required to care for them with empathy, respect, and kindness. We believe in treating every individual with dignity, and our team members are always ready to offer a friendly smile or a listening ear whenever they're needed.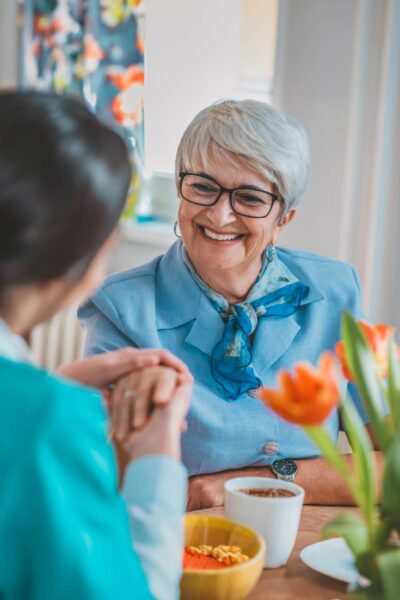 Learn more about each type of care by clicking the buttons below.
What is it like living in Branksome Park?
Residents living in Branksome Park enjoy spacious, well-appointed ensuite rooms and comfortable furnishings. We also offer exciting outings in the local area and carefully curated entertainment schedules to keep our residents engaged and fulfilled.
Our residents have access to a full range of services to help them live comfortably, including first-rate catering and an in-house hair salon. We want our residents to feel at home and taken care of, and we go above and beyond to ensure their needs are met.
Branksome Park was designed to provide the perfect care environment. Well-lit, spacious, and airy, it provides a calm and quiet atmosphere for people to receive the best possible care.
We firmly believe that a person's bedroom is their sanctuary. We have a total of 59 single bedrooms in all, each of which come with an ensuite toilet and basin, and the majority with disabled access showers and direct garden access.
Our communal areas have been thoughtfully designed to maximise comfort and convenience for our residents. Lounge, dining, and refreshment stations are available to all, and we have created designated 'safe' areas for those with memory impairment or cognitive deficits. The hallways throughout the care centre are adorned with comfortable seating areas, giving residents the chance to sit and watch the world go by.
We take pride in maintaining the highest standards of decoration and furnishing throughout our communal areas. Calm, inviting colours help create a warm and homey environment, while various notice boards serve as communication hubs to keep residents up to date on daily activities, menus, and photos from previous outings.
Taking in the sights and sounds of the natural world is so important for mental well-being, which is why we provide plenty of outdoor space for the people under our care to enjoy. Our well-kept lawns, patios, and decking areas are perfect for basking in the warm sun or enjoying a cool breeze.
In order to accommodate individuals with larger wheelchairs or those who require bariatric care, we offer four specially designed rooms with wider doorways of up to 1300mm into both the main room and shower room. These bariatric rooms are also equipped with double doors that lead out to the courtyard and provide easy access throughout the care centre.
Our overhead hoists can support weights of up to 28 stone, making transfers safer and more comfortable. We also provide a full range of bariatric equipment to ensure the comfort and safety of our residents.
When it comes to choosing the right rehabilitation option for yourself or a loved one, it's important to have a clear understanding of the services offered by different care homes. At Branksome Park, we offer a comprehensive range of rehabilitation services that are designed to help individuals recover and rebuild their functional and cognitive skills following medical events such as stroke, spinal cord injuries, brain injuries, hip replacements, and other conditions.
Our rehabilitation rooms are equipped with cutting-edge facilities that allow us to provide acute care services including physical therapy, occupational therapy, speech therapy, and other related treatments. We also offer social work and neuropsychological treatment assistance to ensure that our clients receive holistic care that addresses all aspects of their rehabilitation journey.
Choosing a care home for a loved one can be overwhelming, but we're here to put your mind at ease.
We offer detailed consultations and encourage you to pay a visit to our home, so you can see our rooms and facilities for yourself. We're also happy to answer any questions you have about our care services.
Book a consultation online or call us at 01202 761449 to get started.