Are You Looking For A Care Home or Nursing Home? Give us a call on 01202 671111 or fill out the call back form below and we will be in touch
Luxury Carbon-Neutral Dementia Care Home in the Heart of Poole
Welcome to Eagles Mount, a luxury dementia and residential care home overlooking Poole's picturesque harbour. Located only a few minutes away from Poole Hospital and local doctors' surgeries, Eagles Mount is perfectly situated for those who would like the assurance of nearby medical facilities, while also benefiting from all the other amenities a central location has to offer.
Eagles Mount is the first care home in the UK to have achieved carbon neutral status, in line with ISO 14064 and GHG Emissions Protocol Accounting Standards. We did this by taking several measures to reduce our environmental impact and promote sustainability. These include strategic changes to utility providers, introducing food waste collections (which are not yet available in Poole), signing up to tree planting schemes, and swapping to more eco-friendly products – to name but a few!
If you'd like to find out more, get in touch with our friendly team online or by calling 01202 099747.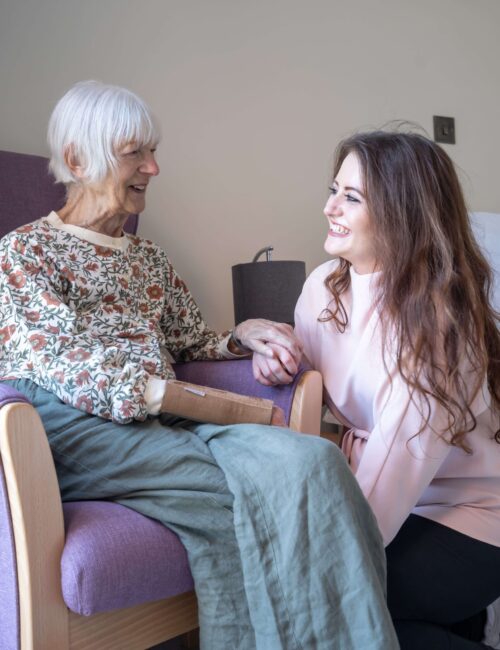 Exceptional Care in Bournemouth
At the heart of high-quality care is a deep understanding of each individual.
Before a new resident moves in, we conduct pre-assessments, review medical records, and hold detailed conversations with both the person moving in and their family members. This allows us to create a detailed care plan that takes into account everything from daily routines to medication schedules. Our team work closely with GPs, mental health organisations, and nurses to provide comprehensive care on all levels.
We provide a copy of each resident's care plan summary to every staff member, and we update it if a person's condition or needs change over time. Our top priority is the health and happiness of our residents, and we make sure to consistently monitor and evaluate our staff to make sure they're providing the highest level of care possible.
Living with dementia can be a very frightening and confusing time, as people may forget large chunks of their past, have trouble speaking, or not remember how to do everyday tasks. At Eagles Mount, we understand the challenges faced by those with dementia and have designed our care home to ease these difficulties.
Our home has a simple and easy-to-navigate layout, with bright colouring and clear signage to reduce confusion. We have also incorporated visual cues and sensory reminders throughout the home to help residents remember things more easily.
Our highly trained dementia care staff are dedicated to providing the right support for each individual and their family members. We work closely with residents, their families, and medical personnel to create personalised care plans that cater to each person's unique needs and preferences.
We follow the Dr Gemma Jones behavioural staging model, which ensures that those living with dementia receive the appropriate level of care and support for each stage of their condition. Our goal is to provide a safe, comfortable, and welcoming environment where people with dementia can live with dignity and respect.
Learn more about each type of care by clicking the buttons below.
What's It Like Living at Eagles Mount?
As part of the LuxuryCare group, Eagles Mount is committed to providing exceptional care to its residents. Our care home boasts high-quality facilities, well-appointed rooms, and staff who are passionate about delivering both practical and emotional care. In addition, residents can enjoy days out in Poole and the surrounding area, allowing them to fully experience and appreciate the beauty and charm of the local community. They also have access to a wide range of service providers, such as hairdressers and chaplains.
From the moment they arrive, residents will feel at home in the luxurious amenities and facilities at Eagles Mount. Spacious lounge areas, activity rooms, and dining areas are complemented by plush rooms adapted to each person's needs.
To promote positive well-being and a sense of community, we encourage residents to bring furniture, photos, and paintings from home, as well as choose their preferred paint colour for their bedroom walls.
Eagles Mount boasts panoramic views of Poole Harbour and Brownsea Island, which can be enjoyed from several balconies and the sensory garden. A beautiful garden and pond with seating are also available for residents to relax in.
Eagles Mount is also home to Colin's Nest Coffee Shop, which welcomes both the people who live with us and the public with open arms. Our coffee shop offers an array of hot and cold beverages, alongside delectable pastries and light snacks. Whether you're dropping by to see a loved one at the care home or simply passing through the area, we encourage you to pop in and savour one of our signature drinks, like our creamy cappuccino or refreshing iced latte.
We offer a comprehensive range of services to help our residents feel comfortable and well-cared for. Our dedicated staff members are available around the clock to provide assistance with any needs our residents may have, and are always committed to going the extra mile to guarantee their comfort and satisfaction.
Some of the core services we provide include:
Laundry and housekeeping
Catering
Hair salon and barbers
Medical services
Chaplain
Well-being support
Keeping the mind and body active is vital for the well-being of our residents, which is why we offer a diverse range of activities tailored to different interests and abilities.
In the evenings, residents can enjoy bingo, scrabble, baking, and poetry sessions, to name a few. We also organise regular day trips, including opportunities to explore the New Forest, visit theatres and art galleries, and much more. There's always something new for our residents to enjoy!
Are you searching for a warm and welcoming care home for your loved one? Eagles Mount may be just what you're looking for.
Learn more about our care plans and facilities by booking a consultation today. Whether you prefer to call us on 01202 099747 or fill out our online form, our team is always happy to discuss how we can support your loved one's needs.